Illuminating Pathways with Bollards
Bollards are commonly used to illuminate pathways, landscapes and driveways to create connectivity to routes and spaces for the public.
Providing appropriate levels of evenly distributed illumination that allows people to see obstacles and create a sense of security and safety is a priority for any installation.
Adding a pleasant lighting effect and luminaire style will embellish and add a distinct enhancement to the overall surroundings.
A good design must take into consideration any dark patches. High light-dark contrast on surfaces should be avoided to prevent too much eye adaption that could impair visual performance.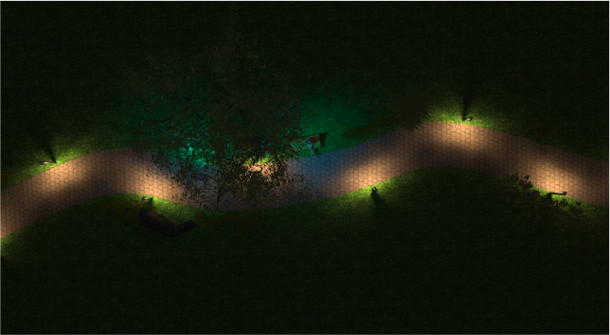 Factors to Consider at Design Stage:
There are many things to consider with exterior lighting designs. These can include focal points, accenting, contrast, beam angles and choosing the

colour

temperature.

Particular attention should to paid to the following aspects;

Evaluation of the space to be illuminated by identifying and establishing the area size.

Review the contours of the design area and any focal points or interesting structural features that could be considered suitable for highlighting.

Consideration of the fixture appearance, dimension, style and shape.

Illumination level requirements, especially for public places at least 1 lux min.

The photometric distribution, performance and wattage consumption.

The luminaire spacing.

The luminaire layout and intended lighting effect and appearance on the surroundings.

All outdoor luminaires should be at least IP65 rated.

Ease of installation and maintenance.